A tumor is a new growth of tissue (a mass). The tumor is also called neoplasm. But there is a slight difference between the usage.
A neoplasm is an abnormal new growth of cells which could be benign or malignant (cancerous) growths.
A tumor in an ideal situation is a synonym for neoplasm. But its use, more so in clinical settings, simply refers to mass [which could be non-neoplastic as well].
For example, a swelling or mass is labeled as a tumor by the clinician but further investigation reveals it to be a cystic lesion. The term tumor may still be used loosely but it cannot be called a neoplasm.
Moreover, malignancies of the blood do not form a mass and hence cannot be called a tumor.
Thus, the word tumor simply refers to a mass.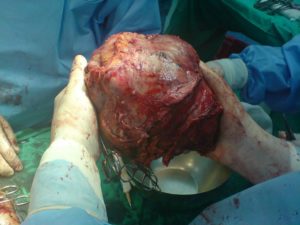 Terms mass and nodules are used to describe tumors also but there is a difference between the two. The mass has a maximal diameter greater than 20 mm whereas nodule is less than 20 mm.
The term tumor too encompasses benign and malignant swellings in neoplastic settings. Tumor implies altered unchecked growth which results in the formation of mass.
Benign masses are called benign tumors and malignant ones are called malignant tumors.
A tumor does not mean cancer. Cancer means a malignant lesion.
Benign tumors are a non-malignant/non-cancerous tumor. These are usually localized, and do not spread to other parts of the body. Most benign tumors respond well to treatment.
Malignant tumors are cancerous growths and are often resistant to treatment. Thus cancer is another word for a malignant tumor or a malignant neoplasm.
What Causes A Tumor?
The cell is the basic unit of organization and control. The genetic code is contained within the deoxyribonucleic acid (DNA) molecule present within the cell nucleus. Genes make proteins that govern the function and structure of a cell.
Overexpression of a gene leading to an unchecked division of the cells and formation of the tumor.
There are three important classes of genes involved in cancer
Tumor suppressor genes, which control the cell cycle by slowing down the cycle or triggering apoptosis.
Oncogenes, which promote cell proliferation by increasing signaling activity.
Growth factors and their receptors which are switched on by oncogenes or switched off by tumor suppressor genes
In general, tumors occur when cells divide and grow excessively in the body. Normally, the body controls cell growth and division. New cells are created to replace older ones or to perform new functions. Cells that are damaged or no longer needed die to make room for healthy replacements.
If the balance of cell growth and death is disturbed, a tumor may form. This is associated with the following conditions:
Smoking
Benzene and other chemicals and toxins
Drinking too much alcohol
Environmental toxins
Excessive sunlight exposure
Genetic causes
Obesity
Radiation exposure
Viruses
Types of Tumors
Benign Tumors or Non-cancerous Tumors
Benign tumors stay in one place and don't spread to other parts of the body and do not recur after they are removed. They are generally covered by a covering called capsule.
Examples of benign tumors include uterine fibroids, lipoma, hemangioma, etc.
Most benign tumors are not harmful to human health. However large benign tumors may cause pressure effects on adjacent structures.
Lipomas are the most common form of soft-tissue tumors.
Cancerous Tumors or Malignant Tumors
The characteristics of a malignant tumor are
Invasion of surrounding tissues
Pleomorphism (variable shapes) of cells and nuclei
Rapid growth
A tendency to spread to other parts of the body (metastasis) by the lymphatics, bloodstream, along with nerve sheaths and across body cavities
At an early stage, evidence of invasion is the most important sign of malignancy.
Precancerous or Premalignant Conditions
Precancerous cells are abnormal cells that may develop into cancer. If not treated, gradually they become more and more abnormal as they divide; until they turn into cancer.
People with precancerous conditions should be checked regularly so that they can be treated quickly when required.
Precancerous changes can be mild to severe.
The following are the different terms used to describe precancerous conditions. All these are microscopic findings.
Atypia
This means that the cells are slightly abnormal. Atypia is also seen in inflammation but some types of atypia are precancerous.
Hyperplasia
The cells are dividing and increasing in number faster than normal. The cells look normal under the microscope but there are more cells than normal.
Some hyperplasias are precancerous but most are not.
Metaplasia
This means that there has been a change in the type of cells that are normally found in a particular part of the body. The cells look normal but are not normally found in that tissue or area.
Most types of metaplasias are not precancerous but some are.
Dysplasia
The cells are abnormal and there are more cells than normal. The cells are growing faster than normal and they are not arranged like normal cells.
Dysplasia is a precancerous condition.
Carcinoma in situ
It is the most severe type of precancerous change. The epithelial cells are very abnormal but have not breached the basement membrane and have not grown into underlying tissue yet. Carcinoma in situ has a high risk of developing into cancer.
Few examples of premalignant conditions are actinic keratosis, cervical dysplasia, lung metaplasia, and leukoplakia
What is Metastasis?
Malignant tumors are invasive by nature. They invade the nearby cells and then the cells near those, and thus have a tendency to spread.
These tumor cells also can break off from the main tumor mass and spread to various parts of the body through the bloodstream or the lymphatic system, and establish themselves anywhere in the body, and form new malignant tumors.
This process by which cells from primary tumor spread from the primary site to distant locations in the human body is called metastasis.
For example, a malignant tumor in the breast may spread to the kidney.
Read more about Metastasis or Metastatic Disease
Symptoms and Signs of Tumors
The symptoms of a tumor depend on the type and location of the tumor. For example, lung tumors may cause coughing, shortness of breath or chest pain.
Tumors of the digestive system may present with weight loss, bowel changes, anemia, blood in the stool or intestinal obstruction.
Some tumors may not cause any symptoms. Others, such as pancreatic cancer, do not usually cause symptoms until the disease has reached an advanced stage.
Tumors may cause symptoms due to the pressure effect caused by their size and compression of adjacent structures, affecting the function of the site as in pituitary adenoma. Symptoms may occur due to the secretion of hormones by tumors [carcinoid syndrome], weakening of the structure [as in bone tumors] or deformation, etc.
The following systemic symptoms may occur with tumors:
Chills
Fatigue
Loss of appetite
Malaise
Night sweats
Weight loss
Diagnostic Work-Up of Tumors
Benign tumors may not need extensive workup but malignant tumors do.
Sometimes diagnostic workup is required to prove the benign or malignant nature of the tumor.
Again the type of work up needed depends on the site, type, and nature of the tumor.
Complete blood examination
Imaging
X-rays
Ultrasound
CT
MRI
Nuclear Imaging Scans
PET Scans
Cytology
Fluid Cytology

Ascitic/pleural/urine/ sputum
PAP smear in cervical neoplasm or screening
Bronchial washings
Histopathology
Immunohistochemistry for knowing subtypes
Molecular/Genetic Techniques
Treatment
The treatment of tumors depends on the type of tumor, benign or malignant and location. Quite a lot of benign tumors [like lipoma] do not require any treatment. Some of the benign tumors may need to be monitored.
Large benign tumors causing regional changes or interfering with the function of adjoining structures may warrant surgical removal.
Sometimes benign tumors may be removed for cosmetic reasons.
Benign tumors of the brain may be removed because of their location or harmful effect on the surrounding normal brain tissue.
Malignant tumors always need treatment unless the spread is too extensive and treatment will not make any difference to survival or quality of life of the patient.
Malignant tumors are treated by the following modalities. The treatment is individualized for each patient. Possible treatments may include:
Chemotherapy
Radiation
Surgery
Immunotherapy