Subclavian steal syndrome is said to be present when the blood flow in vertebral artery reverses due to significant stenosis or occlusion of the ipsilateral subclavian artery just before the origin of the vertebral artery.
As a number of these cases are asymptomatic, the term Subclavian steal syndrome is used when there is a presence of significant symptoms in the brain or upper extremity.
Asymptomatic lesions are often discovered incidentally on ultrasonographic or angiographic examination for other indications, or it may be prompted by a clinical examination finding of reduced unilateral upper-limb pulse or blood pressure.
Symptomatic cases often develop symptoms of ischemia because of reduced blood flow.
Neural symptoms to a reduction in the posterior circulation of the brain may also occur.
The true prevalence of subclavian artery occlusive disease and subclavian steal syndrome is unknown.
The left subclavian artery is the aortic arch branch vessel most commonly affected by atherosclerosis; therefore, it is not surprising that the left subclavian artery is involved with subclavian steal three times more frequently than the right subclavian artery is.
Pathophysiology of Subclavian Steal Syndrome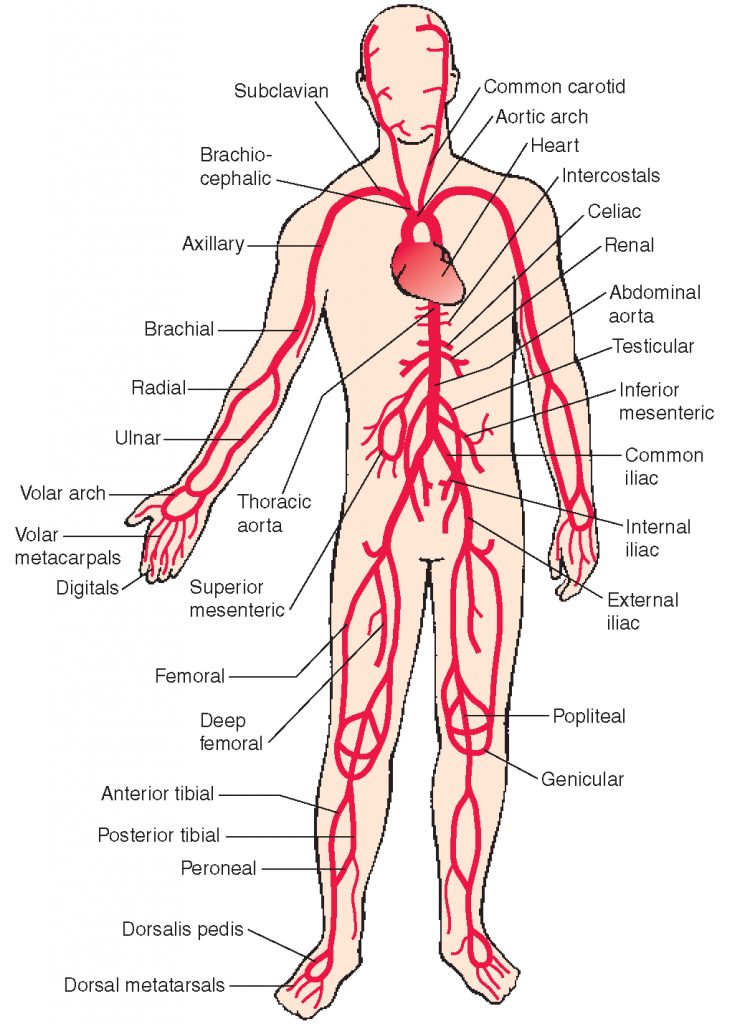 The axillary artery is a continuation of the subclavian artery when it exits the thoracic outlet.
[read about arterial system]
The subclavian artery is a branch of the brachiocephalic artery on the right side. The brachiocephalic artery is also called innominate artery and it divides into common carotid and right subclavian arteries.
On the left, the subclavian artery typically arises directly from the aorta as the last supra-aortic trunk.
In some congenital anomalies, the right subclavian artery may arise directly from the aorta as the last supra-aortic trunk (known as an aberrant right subclavian artery), or it may be isolated.
The subclavian artery has the following branches before becoming the axillary artery:
Vertebral arteries
Internal mammary artery
Thyrocervical trunk
When there is stenosis or occlusion of the subclavian artery before branches originate, the flow that goes to the arm is often insufficient.
To compensate this, especially at the times of increased demand, blood may be recruited from the branches of the subclavian artery to provide collateral retrograde flow to the upper limb.
Most important is the retrograde supply from the vertebral artery.
We know that both the vertebral arteries join to form basilar artery which then communicates with the circle of Willis.
The retrograde flow that occurs in the vertebral artery could be fed by supply from the opposite artery or anterior circulation.
Thus, increased retrograde flow through the ipsilateral vertebral artery may "steal" blood away from the cerebral circulation.
These symptoms typically manifest during exercise as there is vasodilation and increased tissue demand.
There are two aspects of symptom generation – one is a shortfall in blood supply to the limb. The other is reduced cerebral circulation due to a diversion of the blood from cerebral blood circulation.
The symptoms in arms present as pain and other ischemic symptoms.
Symptoms due to the affection of brain circulation are due to posterior circulation or anterior circulation.
Posterior circulation symptoms are
Dizziness
Vertigo
Blurred vision
Diplopia
Near-syncope upon exercise of the ipsilateral arm
Types of Subclavian Steals
Classic subclavian steal
Subclavian artery occlusion or significant stenosis proximal to the origin of the vertebral artery results in lower pressure in the distal subclavian artery.
Blood flows from the contralateral vertebral artery to the basilar artery and may flow in a retrograde direction down the ipsilateral vertebral artery.
Reversed vertebral artery flow, although it may have deleterious neurologic effects, serves as an important collateral artery for the arm in this setting.
Coronary-subclavian steal
Left internal mammary artery [LIMA] is frequently used in bypass surgery of heart as a conduit for coronary artery bypass grafting If proximal subclavian artery disease develops or progresses in this setting, the graft conduit may become reliant on the retrograde vertebral flow.
The exercise of the upper limb may result in the diversion of flow from the LIMA graft into the arm, resulting in myocardial ischemia or angina.
Identification of significant subclavian artery stenosis prior to CABG can prevent this important problem.
Causes
Atherosclerosis leading to subclavian artery occlusion or stenosis
Inflammatory arteriopathies

Takayasu arteritis
Giant cell arteritis

Congenital anomalies
Sacrifice of the proximal subclavian artery in aortic surgery

Blalock-Taussig procedure for tetralogy of Fallot
Coverage of the left subclavian origin with a thoracic endovascular stent graft

Thoracic outlet compression syndrome
Clinical Presentation
Usually asymptomatic
Signs of arm ischemia on vigorous work often involving overhead activity
Cerebral ischemia [typically transient]

Dizziness or vertigo
Syncope
Dysarthria
Visual symptoms due to vestibular dysfunction

Nystagmus
Inability to focus
Single eye or both eye vision loss

On examination

There is a difference in upper-extremity pulses and brachial systolic blood pressures
If they are both equal, it rules out occlusion of the subclavian vessel. In such cases, stenosis or occlusion of the proximal vertebral artery should be considered.

Neural symptoms with normal blood pressures in the affected arm.
Lab Studies
A fasting lipid profile and blood glucose should be done to look for risk of atherosclerosis.
Imaging
Duplex Ultrasonography
Doppler ultrasonographic examination of the neck arteries can diagnose subclavian steal syndrome.
It is able to show retrograde blood flow in the vertebral artery. It can also reveal occlusion of the carotid arteries.
Angiography
Computed Tomography (CT) angiography has replaced traditional angiography as it is non-invasive and highly sensitive and specific.
It also can identify other lesions in the arch vessels.
However, when an endovascular procedure is considered, conventional four-vessel arteriography is more appropriate as it can allow therapeutic procedure as well.
Magnetic Resonance angiography should be considered in patients with renal dysfunction [clearing issues of CT contrast agents] though it can overestimate the degree of obstruction.
Arch aortography should be performed to further define the problem and plan for operative or interventional repair.
Chest X-ray
To look for a cervical rib, though it is an unusual cause of occlusion.
ECG
Many patients may have concomitant ischemic heart disease and therefore ECG, preferably, should be done.
Treatment of Subclavian Steal Syndrome
Asymptomatic patients usually do not require treatment.
There is no effective medical treatment for occlusion but antiplatelet drugs should be started to reduce the risk of associated myocardial infarction, stroke, and other vascular events.
Surgery is done in symptomatic patients. The idea is to either remove the occlusion or bypass the blood flow. Adequate perfusion pressure to the affected arm is the goal of the treatment so that collateral blood flow from the head and neck is not required during arm exercise.
Open Surgical Procedures
Endarterectomy
In this procedure, the artery is opened and the plaque, diseased intima, and internal elastic lamina of the vessel are removed. Depending on the extent of the disease, the endarterectomy may be done in the subclavian vessel only or extended to the carotid arch.
Surgical Bypass or Transposition
Extrathoracic carotid-subclavian bypass
Extrathoracic carotid-subclavian bypass using 6- to 8-mm Dacron or polytetrafluoroethylene (PTFE) prosthetic grafts are used.
Subclavian transposition
The subclavian artery can also be transposed to a new origin on the side of the common carotid artery.
Long-term results are similar to those of carotid-subclavian bypass.
Axillary-axillary bypass
Used when the ipsilateral carotid is unsuitable for carotid-subclavian bypass
Axillofemoral bypass is another alternative which may be performed.
Endovascular Treatment
Endovascular or catheter-based treatment is the most commonly used approach nowadays.
It has been found to have similar outcomes to open bypass which though still is a gold standard.
Endovascular procedures can be performed on an outpatient basis too.
There are two endovascular procedures
Stenting
Balloon angioplasty
Stenting has been found to be better.
Complications
Open surgery

Injury to adjacent structures
Cerebral ischemia

Thrombosis of the repair
Carotid or vertebral arteries embolism

Endovascular treatment

Access site [brachial or femoral] bleeding or hematoma
Intraoperative transitory ischemic attacks
Follow-up
Patients are seen at 3- to 6-month intervals and Doppler scan should be done at 6-month and 1-year intervals. Patients with stents need antiplatelet drugs.
Prognosis
Asymptomatic persons do not require any treatment. Patients who have successfully been treated by surgery or stent have a very good prognosis.
References
Labropoulos N, Nandivada P, Bekelis K. Prevalence and impact of the subclavian steal syndrome. Ann Surg. 2010 Jul. 252(1):166-70.
Berguer R, Higgins R, Nelson R. Noninvasive diagnosis of reversal of vertebral artery blood flow. N Engl J Med. 1980 Jun 12. 302(24):1349-51.
Potter BJ, Pinto DS. Subclavian steal syndrome. Circulation. 2014 Jun 3. 129(22):2320-3.
Song L, Zhang J, Li J, Gu Y, Yu H, Chen B, et al. Endovascular stenting vs. extrathoracic surgical bypass for symptomatic subclavian steal syndrome. J Endovasc Ther. 2012 Feb. 19(1):44-51