A migraine is a neurological condition that can cause a moderate or severe headache. It is felt as throbbing pain, usually on one side of the head.
It may be accompanied by nausea, vomiting, and extreme sensitivity to light and sound.
A migraine attack can last for hours to days. The pain can be so severe that it interferes with daily activities.
Migraine is the third most prevalent disease in the world. About 12% of the population (including children) suffer from migraine.
It is more common in women. It can affect all age groups but is most common between the ages of 18 and 44.
The disease is known to run in families. About 90% of migraine patients have a family history of migraine.
In some people, migraine may be accompanied by aura – which is a warning symptom that occurs before a migraine attack. An aura can include visual or other disturbances.
Medications can help prevent and treat migraine pain. Medicines in combination with self-care remedies and lifestyle changes can help to reduce the number of migraine episodes and associated symptoms.
Symptoms
Migraine may occur in 4 stages. However not all the phases may be experienced in every case.
Prodrome
Non-specific symptoms may begin one or two days before the actual headache. These symptoms include:
Fatigue
Mood changes, from depression to irritability to euphoria
Food cravings
Constipation or diarrhea
Bloating
Neck stiffness
Increased thirst and urination
Frequent yawning
Aura
An aura is a group of transient, reversible neurological symptoms that occurs before or during the migraine attack.
The symptoms appear gradually and generally last for less than an hour.
Aura occurs in around 15 – 30 % of patients who have migraine attacks.
The most common symptoms are visual effects. Other less common symptoms may include disturbances related to sensation, movement, and speech.
Symptoms of migraine aura include:
Visual phenomena, such as seeing various shapes, black dots, bright spots, or light flashes
Temporary vision loss
Tunnel vision
Pins and needles sensations in arm or leg
Tingling, numbness, or weakness in the face or one side of the body
Difficulty in speaking clearly
Ringing in ears
Altered smell or taste
Uncontrollable jerking or other movements
Attack
A migraine attack usually lasts from a few hours to a few days.
The frequency of attacks varies. They may occur rarely or several times a month.
Symptoms can vary from person to person. Common symptoms include:
Pain on one side of the head or on both sides. The pain can even shift from one side of the head to the other. It usually begins as a dull ache and gradually grows into a throbbing or pulsating type of pain. The pain worsens with physical activity.
Increased sensitivity to light, sound, smell or even touch
Nausea and vomiting
Dizziness
Post-drome
This stage can last for up to a day after the acute phase of the headache is over. Symptoms include:
Feeling drained or excessively tired
Alternatively, some people may feel unusually happy or euphoric
A dull, mild headache may persist. A sudden head movement might increase the pain for a short time.
Changes in mood and feelings
Muscle pain or weakness
Lack of appetite or food cravings
The duration and severity of these phases can vary in different people. Sometimes, a phase can be completely skipped.
Types of Migraine
Migraine with aura: classic migraine
Migraine without aura: common migraine
Menstrual migraine: migraine follows the pattern of the menstrual cycle.
Chronic migraine: when an episode of migraine lasts for more than 15 days every month for a period longer than 3 months.
Silent migraine: (or acephalgic migraine ) Symptoms of aura are present but there is no headache.
Vestibular migraine: It is associated with vertigo. It is usually seen in people who have a history of motion sickness.
Abdominal migraine: It causes nausea, vomiting, and pain in the stomach. It is common in children. Over a period of time, the symptoms change into those of classic migraine headaches.
Hemiplegic migraine: It results in temporary weakness or paralysis on one side of the body. Since this is also a symptom of stroke, it is important to take medical advice immediately.
Ophthalmic migraine : (ocular or retinal migraines) Headache is accompanied by visual disturbances or even temporary partial or total blindness in one eye. It also requires immediate medical care.
Ophthalmoplegic migraine. It causes pain around the eye along with paralysis of the muscles around it. There may also occur droopy eyelid, double vision, or other vision changes. It is a medical emergency.
Status migrainosus: It is a very severe type of migraine that can last for more than 72 hours.
Causes
A migraine is caused by abnormal activity within the brain. A number of factors are known to act as triggers for this abnormal activity.
A combination of genetic and environmental factors is thought to result in a migraine attack. Migraine begins in the brain and involves nerve pathways and chemicals. This causes changes in the blood flow to the brain and surrounding tissues.
The disease is known to run in families. The genetic association is stronger in migraines with aura as compared to migraines without aura.
However, the exact mechanism by which migraine occurs is unknown.
Changes in the brainstem and its interactions with the trigeminal nerve ( which is a major pain pathway) are thought to be involved.
Imbalances in chemicals present in the brain may also be responsible. Alterations in the levels of serotonin (which helps regulate pain in the nervous system), and calcitonin gene-related peptide (CGRP) are thought to be responsible for causing the disease.
Triggers of Migraine Attack
A variety of factors can trigger a migraine attack. Common ones include:
Hormonal changes: Fluctuations in hormonal levels of estrogen can trigger migraines in many women. Such fluctuations can occur before or during menstrual periods, pregnancy, or menopause. Using birth control pills or hormone replacement therapy can also lead to headaches.
Stress: Emotional stress is an important trigger as it releases chemicals that can cause blood vessel changes leading to migraines.
Sensory stimuli: Strong lights, bright sunshine, loud noise, or a particular strong smell can induce migraines in some people.
Certain food items: Alcohol, chocolate, coffee, cheese, processed foods, etc may trigger migraine attacks.
Food additives: Food additives like nitrates (in cured meats and certain cheese), monosodium glutamate or MSG (in canned vegetables, soups, and processed meats), aspartate (used as a sugar substitute in foods and beverages) may also be responsible in certain people.
Weather changes: Sudden change in temperature, air pressure, or strong winds can all trigger a migraine.
Skipping meals or fasting or dehydration: Can also act as trigger factors for migraine
Sleep changes: Getting too little or too much sleep can trigger headaches in some people.
Physical factors. Intense physical activity, including sexual activity, might lead to migraines.
Medications: Certain medicines like oral contraceptives and vasodilators, such as nitroglycerin, can also induce migraines.
Diagnosis
Migraine is diagnosed based on the typical signs and symptoms. No test is essential for the diagnosis.
In certain cases, however, blood tests, CSF examination, EEG, MRI, or CAT scan of the brain may be carried out to rule out other causes of headaches like a brain tumor, stroke, infections of the brain, or other neurological causes.
Treatment
Treatment involves methods to prevent migraines and to treat an acute attack.
Self-care Tips and Home Remedies to Prevent Migraine
Since migraine is often triggered by a lack of proper sleep, sleeping well and maintaining a proper sleep schedule is a must to prevent migraine attacks.
An empty stomach can trigger migraines. So eat your meals frequently at regular intervals and don't skip meals.
Try to identify foods that trigger migraines and avoid them. Common food items that may trigger migraines include processed foods, cheese, alcohol, chocolate, etc.
Some people may be sensitive to strong lights, bright sunshine, loud noise, or a particular smell. It is important to recognize the sensory stimuli that trigger your migraine and try to avoid it as far as possible.
Dehydration or not drinking enough water is a common trigger factor for migraine. So make it a point to drink or sip water throughout the day and maintain proper hydration.
Regular exercise releases endorphins which prevent the release of stress hormones, and block pain signals to the brain. So exercising is beneficial in people who are prone to migraines.
Stress is a very common trigger for migraines. Activities that help to manage stress include regular meditation, yoga, music therapy, pursuing a hobby, etc. You can even take the help of a professional to manage stress.
Maintain a migraine journal. Note down what factor led to your migraine each time. Over a period of time, you will be able to identify your trigger factors. Avoiding them can help you to prevent future attacks.
Read more about 11 Migraine Selfcare Tips You Must Follow
Self-care Tips and Home Remedies to Treat Migraine
Stop your normal activities and relax
As soon as you realize that you are having a migraine attack, stop doing your routine work.
Shift to a quiet place or room without any distractions.
Instruct your family members not to disturb you for a few hours.
Switch off the room's lights.
Close your eyes and try to relax or sleep.
In many cases, relaxing in a calm environment provides significant relief from headaches.
Try Temperature Therapy
The application of hot or cold compresses may be helpful in certain cases.
You can place ice packs on your head or neck. This produces a numbing effect which helps to reduce the pain sensation.
Hot packs and heating pads or bottles can also be applied to the head or neck region. The warmth thus produced promotes relaxation of tense muscles thereby reducing pain.
Warm showers or baths may also prove to be helpful because of the similar action of muscle relaxation.
Drink a Caffeinated Beverage
Consumed in moderation, caffeine helps to relieve migraine pain in mild cases. It also potentiates the pain-reducing effects of acetaminophen and other routinely used pain-killers.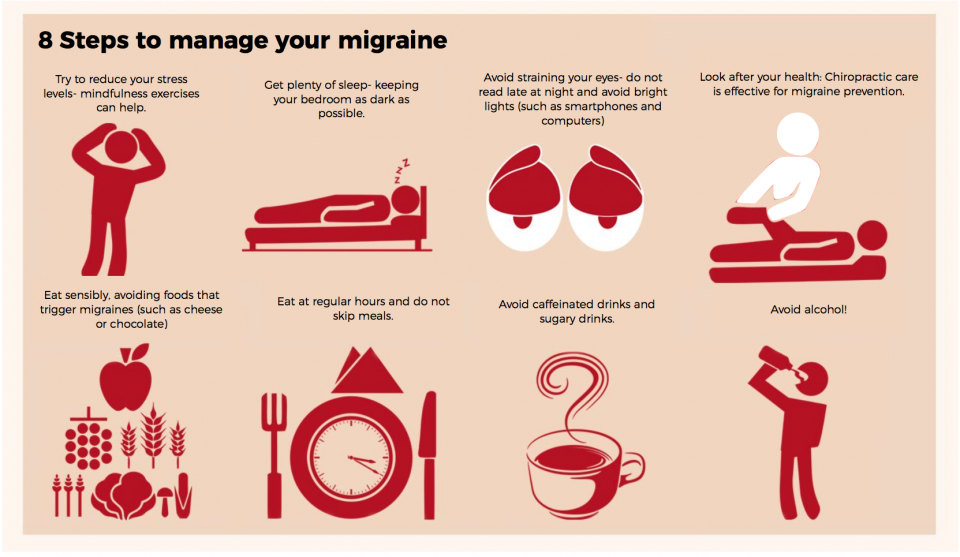 Medications to Treat Migraine
There are 2 aspects of migraine treatment.
Acute treatment: to treat migraine when it occurs.
Preventive treatment: to prevent the occurrence of migraine.
People who suffer from frequent attacks usually need both these treatments.
Acute/ Abortive treatment
Medicines for treating migraine pain are most effective when taken at the first sign of a migraine attack. These include
Analgesics
Analgesics or pain killers are often the first medicines to be used in a migraine attack. They are available as over-the-counter drugs (meaning which don't require a prescription)
Commonly used medicines include NSAIDs (aspirin, ibuprofen, etc) or acetaminophen. They should not be taken for a very long period as they may cause medication-overuse headaches.
Read more about Analgesics or Drugs used for Pain Relief
Triptans
These drugs block pain pathways in the brain. They include drugs such as sumatriptan (Imitrex, Tosymra) and rizatriptan (Maxalt). They are available as pills, shots, or nasal sprays. They should be avoided in people who are at risk of a stroke or heart attack.
Dihydroergotamines

They are most effective when taken immediately after the start of symptoms. They are usually recommended when migraine lasts for more than 24 hours. They work by narrowing the blood vessels around the brain. They can cause worsening of migraine-associated nausea and vomiting .
Lasmiditan
This is a new oral drug for the treatment of migraine with or without aura. It can cause sedation and dizziness.
Ubrogepant
This oral drug is also approved for the treatment of acute migraine with or without aura in adults. It is a calcitonin gene-related peptide receptor antagonist.
Opioid drugs
Narcotic opioid medications especially those containing codeine, are used only if no other treatments are effective since they are highly addictive.
Medication for nausea and vomiting
Drugs like prochlorperazine, promethazine, metoclopramide are used to treat nausea and vomiting associated with acute migraine attacks.
In the case of dehydration associated with severe vomiting, the patient must be hydrated adequately.
Hormonal treatment for menstrual migraine
Menstrual migraine is treated just like other migraines. In case there is no response to the usual treatment, women may benefit from hormonal treatment with estradiol.
Preventive treatment
In case of frequent, long-lasting, or severe headaches that disrupt a person's lifestyle, preventive medication should be given. It is also recommended if a person does not respond well to routine treatment.
Anti-epileptic drugs: Valproate and topiramate (Topamax) are helpful in reducing the frequency of migraine attacks. They can cause side effects such as dizziness, weight changes, nausea, etc.
Antidepressants: Tricyclic antidepressants (amitriptyline and nortriptyline) can prevent migraines.
Antihypertensives: Drugs to lower blood pressure such as beta-blockers (propranolol and metoprolol tartrate) may be used in young patients. Calcium channel blockers (verapamil), ACE- inhibitors (lisinopril), and angiotensin-receptor blockers (candesartan) are also effective for migraine prevention.
Botox injections: Injections of Botulinum toxin A can help prevent migraines in some adults. They should be used in patients with an intractable, chronic migraine that is unresponsive to other treatments. The injections are given in the scalp or temple area. These injections are expensive and should be administered every 2-3 months to maintain their effectiveness.
Calcitonin gene-related peptide (CGRP) inhibitor. CGRP is a vasodilator and is a major chemical responsible for causing migraines. Inhibiting this chemical can be used to prevent migraines. Commonly used CGRP inhibitors include erenumab, fremanezumab, and galcanezumab.
Transcutaneous electrical nerve stimulation (TENS): It was the first device approved for the prevention of migraine. It acts by stimulating the trigeminal nerve The device is worn across the forehead and over the ears. It has a self-adhesive electrode that is placed in the center of the forehead. The device should be worn for about 20 minutes a day.
Treatment of Status Migrainosus
In case of very severe migraine pain lasting longer than 72 hours that do not respond to usual treatments, the patient may need to be hospitalized. Such patients may be treated with intravenous valproate or dihydroergotamine (intravenously/subcutaneously/intramuscularly) for a few days.
Alternative Therapies
They may not prove to be effective in all patients but may work for some and hence are worth giving a try.
Acupressure: In this technique, pressure is applied to specific parts of the body. This stimulation to specific body points is thought to release muscle tension and provide pain relief.
Acupuncture: Inserting very thin needles through the skin at specific body points has proved to be beneficial in some patients.
Massage: Massaging the muscles in the neck and shoulders can help some patients. It helps to relieve tension in the muscles, reduce migraine pain, and may also reduce stress.
Behavioral management techniques: The identification of negative thoughts, relaxation training, and stress management can help to control migraines. These techniques focus on the holistic approach rather than treating the symptoms.
Biofeedback therapy: It is used to release and relax tight muscles that might be triggering migraine pain. Sensors are placed on the muscles which give real-time feedback about muscle tension. This allows the patients to relax the tight muscles. This technique takes practice and training.
References
Headache Classification Committee of the International Headache Society. Headache Classification Committee of the International Headache Society (IHS) The International Classification of Headache Disorders, 3rd edition. Cephalalgia. 2018 Jan. 38 (1):1-211.
Silberstein SD, Freitag FG. Preventative treatment of migraine. Neurology. 2003. 60(7):S38-44.
Ducharme J. Canadian Association of Emergency Physicians Guidelines for the acute management of migraine headache. J Emerg Med. 1999 Jan-Feb. 17(1):137-44.
Solomon GD, Cady RK, Klapper JA, Ryan RE Jr. Standards of care for treating headache in primary care practice. National Headache Foundation. Cleve Clin J Med. 1997 Jul-Aug. 64(7):373-83.