Metabolic syndrome is a cluster of metabolic disorders which when present increases the risk of cardiovascular disease. It arises from insulin resistance accompanying abnormal adipose deposition and function and is also a risk factor for diabetes, fatty liver, and several cancers.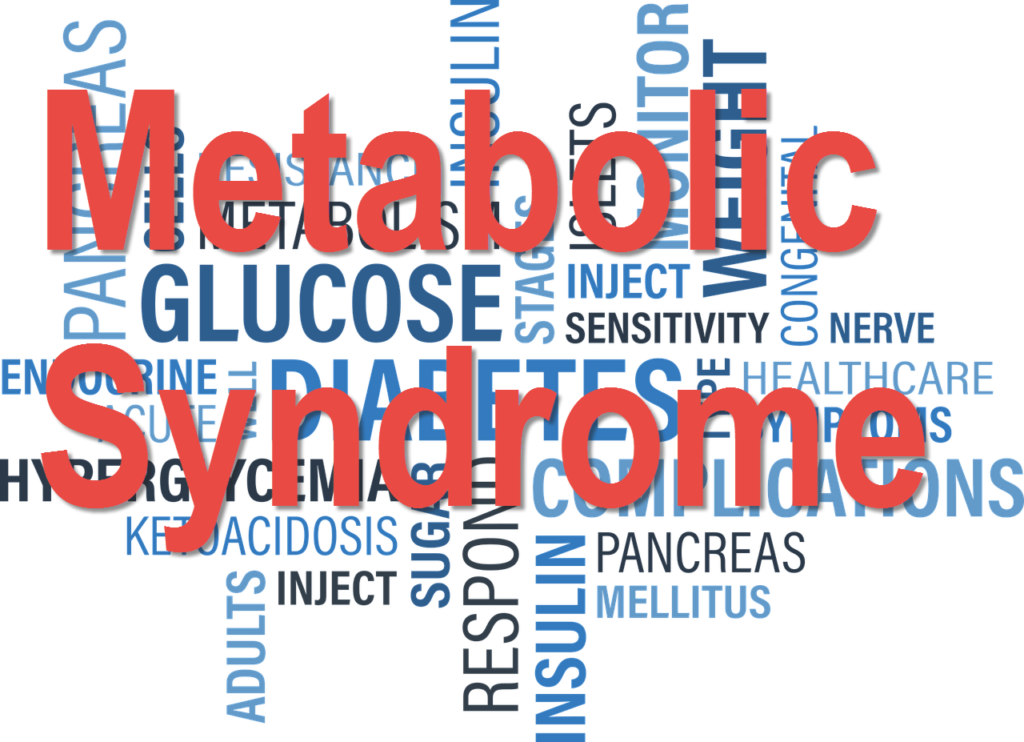 Metabolic syndrome occurs when a person has three or more of the following
Abdominal obesity (Waist circumference of greater than 40 inches in men, and greater than 35 inches in women)
Triglyceride level of 150 milligrams per deciliter of blood (mg/dL) or greater
HDL cholesterol of less than 40 mg/dL in men or less than 50 mg/dL in women
Systolic blood pressure (top number) of 130 millimeters of mercury (mm Hg) or greater, or diastolic blood pressure (bottom number) of 85 mm Hg or greater
Fasting glucose of 100 mg/dL or greater
Risk factors for metabolic syndrome include family history, poor diet, and inadequate exercise.
Exact pathway of development if this condition is not known. Increased thyroid stimulating hormone (TSH) has been linked to a higher prevalence of metabolic syndrome.
Hyperuricemia appears to be much more common in patients with metabolic syndrome.
Risk factors for Metabolic syndrome
Insulin resistance
Aging
Sedentary lifestyle
Stress
Diet (sugar-sweetened beverage consumption)
Family history
Low physical activity
Disrupted sleep
Mood disorders/psychotropic medication
Excessive alcohol use.
Insulin resistance appears to be the primary mediator. Insulin promotes glucose uptake in muscle, fat, and liver cells.
Abnormalities in insulin secretion and insulin receptor signaling, impaired glucose disposal, and proinflammatory cytokines are additional factors. These abnormalities, may result from obesity with related increases in free fatty acid levels and changes in insulin
Clinical Presentation of Metabolic syndrome
The condition is diagnosed based on clinical presentation and laboratory tests. [see the criteria given above]
Clinically the suspicion may arise if there is increased hunger, thirst, or urination [suggestive of hyperglycemia]
If there is history of hypertension, dyslipidemia, or hyperglycemia, such as chest pain or shortness of breath, must be investigated to rule out metabolic syndrome.
Tobacco use and family history of the consdition should be enquired about.
Measurement and documentation of waist circumference to assess abdominal obesity.
The examination reveal findings like acanthosis nigricans, hirsutism, peripheral neuropathy, and retinopathy attributable to insulin resistance and hyperglycemia diabetes mellitus.
Similarly with severe lipid disorders xanthomas or xanthelasmas may be seen.
Lab Studies
Blood glucose levels
renal function tests
lipid studies to assess for hypertriglyceridemia or low HDL levels.
If a family history of early coronary or other atherosclerotic disease is present
Lipoprotein(a)
Apolipoprotein-B100
High-sensitivity C-reactive protein (CRP
Homocysteine
Fractionated LDL-C.
Further studies should be pursued as clinical findings dictate.
Imaging studies
Imaging studies are not routinely indicated
If there is a chest pain, dyspnea, or claudication following may be done if required
Rest/stress ECG
Rest/stress echocardiography
Stress single-photon emission computed tomography
Cardiac positron emission tomography
Sleep-related studies in obstructive sleep apnea should be done.
Treatment of Metabolic syndrome
The approach to management of metabolic syndrome involves
Lifestyle modifications like diet, activity. Drugs are used when required.
Diet
Diets rich in dairy, fish, and cereal grains is associated with a lower risk of developing metabolic syndrome.
Moderate wine intake may protect against the development and complications of this condition.
Higher fructose diets should be curtailed.
Pharmacologic Therapy
Drugs as needed for
Control of blood pressure
Correction of Lipid Levels

Statins
Fibrate therapy
Niacin
Omega-3 polyunsaturated fatty acid

Hyperglycemia

Hypglycemic drugs such as metformin [also increases insulin sensitivity]

Preventive cardiovascular treatment
Treatment of associated obstructive sleep apnea
Activity
Excessive sitting and other sedentary behavior are contributory to the development of metabolic syndrome.
Exercise therefore is an important intervention.
The current recommendation regular moderate-intensity physical activity for at least 30 minutes continuously at least 5 days per week for patients with this syndrome.
Achieving moderate intensity activity for 120 to 150 minutes a week may reduce the risk of developing metabolic syndrome.
Those who have this syndrome, physical activity reduces the risk of developing of developing coronary heart disease.
Complications of Metabolic Syndrome
Coronary heart disease
Atrial fibrillation
Heart failure
Aortic stenosis
Ischemic stroke
Venothromboembolic disease.
Risk of stroke.
Neuropathy [through inflammatory mediators]
Nonalcoholic fatty liver disease
obstructive sleep apnea.
Breast cancer has also been linked to metabolic syndrome,
cancers of the colon, gallbladder, kidney, and, possibly, prostate gland.
Neurocognitive dysfunction