Glossopharyngeal neuralgia is the pain in the distribution of glossopharyngeal nerve distribution and causes repeated episodes of severe pain in the tongue, throat, ear, and tonsils, which can last from a few seconds to a few minutes. It us also called cranial mononeuropathy IX or Weisenberg syndrome.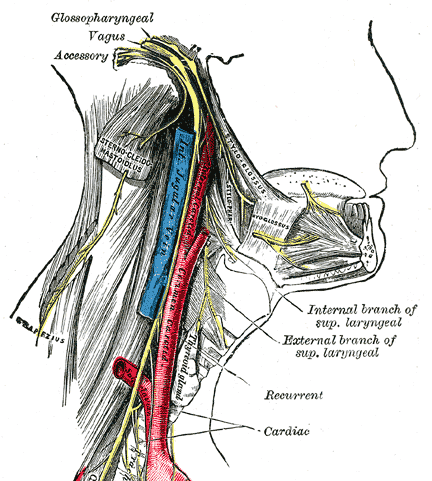 The ninth cranial nerve arising from brain stem leaves the skull through jugular foramen. The three nerves 9th, 10th and 11th nerve lie together in close relationship with internal jugular vein and internal carotid artery. The 9th nerve runs forward on the stylopharyngeus muscle to pierce the superior constrictor muscle of pharynx. Glossopharyngeal nerve provides sensation to the posterior part of the tongue, pharynx and tonsil. Also it provides secretomotor fibres to the parotid and motor fibers to stylopharyngeus muscle, a muscle of pharynx.
Causes of Glossopharyngeal Neuralgia
Idiopathic – The neuralgia is supposed to be because of compression of nerve by a blood vessel.
Secondary – This type occurs because of invasive tumors of posterior tongue, tonsils and hypopharynx. Infectious and inflammatory processes may also lead to this condition.
Glossopharyngeal neuralgia represents only 0.2%–1.3% of facial pain syndromes. Reported incidence in the population is 0.2 and 0.7 per 100,000 people per year.
Glossopharyngeal neuralgia is more common on the left side. Trigeminal neuralgia is more common on the right.
Sequential bilateral involvement is known .
Glossopharyngeal neuralgia can lead to bradycardia and loss of sympathetic tone, and therefore syncopal episodes and even seizures occur in as many as 10% of the cases.
Clinical Features of Glossopharyngeal Neuralgia
There occurs a lancinating and shooting pain in the distribution of glossopharyngeal nerve. The pain can be felt in the region of the tonsillar fossa, pharynx or base of the tongue. It can radiate to the ear or the angle of jaw or into the upper lateral neck. The pain might be aggravated by swallowing movements.
Oral hygiene of the patient may be affected and patient might have halitosis. Excessive salivation may lead to drooling of saliva. Associated weakness of 10th cranial nerve may be noted. Tenth nerve is vagus nerve and its dysfunction should always can cause slow pulse, sudden drop in blood pressure, fainting (syncope) and seizures
Pain can be often triggered by –
Chewing
Coughing
Laughing
Speaking
Swallowing
Diagnosis
Investigations are carried to rule out secondary caused. These include CT and MRI of head. Sometimes the MRI may show swelling (inflammation) of the glossopharyngeal nerve.
Magnetic resonance angiography may be done to look for compression of the nerve by vessels.
Treatment of Glossopharyngeal Neuralgia
Over the counter drugs are generally not effective. The treatment of glossopharyngeal neuralgia is similar to trigeminal neuralgia.
So the anticonvulsants, such as carbamazepine, gabapentin are used to control pain. Over the time drug might start to loose its effectiveness. In such cases, dose might be increased or another drug is added.
Application of liquid xylocaine to the tonsil area can produce temporary relief.
Phenytion, sodium valporate, clonazepam, baclofen and amitryptyline are other drugs.
In unrelenting cases, a glossopharyngeal nerve diagnostic block followed by neurolysis if with glycerol, alcohol, phenol or radiofrequency lesion is contemplated.
Surgery
Surgery is indicated for patients in whom medical treatment has failed.
Surgery is preferred treatment for glossopharyngeal neuralgia secondary to local infection, elongated styloid process, ossified elongated styloid ligament and intra-or extracranial tumors.
Microvascular Decompression
It is also called Jannetta's procedure.
It is a surgery to gently reroute the blood vessel from compressing the nerve by padding the artery with a sponge. The sponge remains in the brain permanently. It is an open surgery and requires craniotomy.
MVD provides pain relief in 85% of patients.
Microvascular Decompression + Nerve Rhizotomy
This involves vascular decompression and cutting of the nerve root its connection to the brainstem.
Percutaneous Stereotactic Radiofrequency Rhizotomy
It is a minimally invasive approach where a hollow needle is inserted through the skin of the cheek into the glossopharyngeal nerve at the base of the skull. An electrode passes a heating current to destroy some of the glossopharyngeal nerve fibers that produce pain
Radiation
The goal of radiation treatment is to damage the nerve root to interrupt the pain signals from reaching the brain. Stereotactic radiosurgery is a noninvasive outpatient procedure that uses radiation beams to destroy some of the glossopharyngeal nerve.
Pain relief may not occur immediately but rather gradually over time.
Get more Health & Medicine Articles like this
Subscribe & Get Updates sent to your email inbox.
Thank you for subscribing.
Something went wrong.