What is Diamond Blackfan Anemia?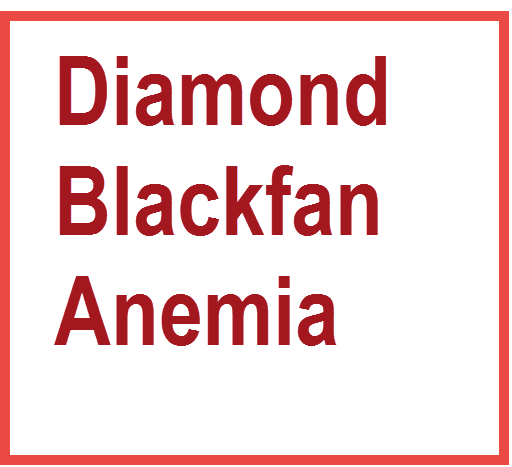 Diamond Blackfan anemia is a rare blood disorder in which the affected child cannot make enough red blood cells leading to congenital hypoplastic anemia. Leucocyte and platelet counts are normal or slightly reduced. It is a congenital type of pure red cell aplasia.
Read more about Pure Red Cell Aplasia- Causes, Types, Investigations and Treatment
Blood cells are manufactured in the bone marrow and in children with Diamond Blackfan anemia, many of the cells that would have become red blood cells, die before they develop.
This syndrome presents in infancy. Approximately 30% of patients have other congenital anomalies, particularly of the upper limb, craniofacial regions, heart, and urogenital tract.
Synonyms: Diamond-Blackfan syndrome, chronic congenital erythrogenesis imperfecta
What Causes Diamond Blackfan Anemia?
The majority of the cases are sporadic, approximately 10-25% are familial. It belongs to one of a rare group of genetic disorders, known as the inherited bone marrow failure syndromes.
The disease may be passed down through families. In about half the children with the disorder, a gene defect has been found. In the other half of children with the disease, no gene defects are found and the cause is not known.
Read more about Genetic Inheritance-Modes and Significance
Most of the Diamond Blackfan anemia occurs due to abnormal ribosomal proteins in genes. Different cases may have different ribosomal gene loci.
Some cases arise from mutation of transcription factor GATA1 [Erythroid transcription factor or GATA-binding factor 1 or GATA-1 is a protein encoded by the GATA1 gene and is required for maturation of RBC precursors]
Various mutations have been identified for Diamond Blackfan syndrome and stored as a database.
On molecular level, there appears hematological stem cell defect specifically affecting the erythroid progenitor population.
Loss of ribosomal function may affect translation and protein biosynthesis. Erythroid progenitors are more sensitive to this decreased function than other tissues.
The condition is however named after the pediatricians Louis K. Diamond and Kenneth Blackfan. They described congenital hypoplastic anemia in 1938.
Genes related to Diamond-Blackfan anemia
Diamond-Blackfan anemia can be caused by mutations in the RPL5, RPL11, RPL35A, RPS7, RPS10, RPS17, RPS19, RPS24, and RPS26 genes. These genes provide instructions for making several of the approximately 80 different ribosomal proteins, which are components of cellular structures called ribosomes.
Presentation of Diamond Blackfan Anemia
The symptoms are often severe and life-threatening. Usually, it presents in the first few months of life.
The affected child develops a severely hypoplastic macrocytic anemia. However, some children do not develop anemia until later on in childhood.
Signs and symptoms of anemia are pallor, lethargy, irritability, tachycardia, flow murmur in the heart. The child may be of low birth weight.
Associated physical anomalies of varying severity are present.
Present in up to 50% of affected infants.
Hand – Triphalangeal thumb and thenar muscle hypoplasia.
Craniofacial malformations,
Cardiac defects
Urogenital malformations
Cleft palate
Unusually small head size (microcephaly)
Low frontal hairline
Wide-set eyes (hypertelorism)
Droopy eyelids (ptosis)
Broad, flat bridge of the nose
Small, low-set ears
Small lower jaw (micrognathia)
Cleft palate with or without cleft lip.
Webbed neck
Smaller shoulder blades
Short stature due to slow growth. [Many children are short for their age]
Otherwise, the development is normal and learning difficulties are usually not encountered.
Diagnosis
Diagnosis of Diamond Blackfan anemia is made by correlating clinical picture, blood investigations, and bone marrow biopsy.
Provides information on RBC count, WBC count, platelet count, hematocrit and other blood indices.
A small sample of blood is checked under a microscope to see if they look normal or not. It may show macrocytic anemia with decreased reticulocyte count.
Bone Marrow Biopsy
Decreased erythroid precursors in bone marrow.
Read more about Types of Biopsies and Their Applications
Adenosine Deaminase
The enzyme adenosine deaminase (eADA) in the red blood cells is usually raised.
About 20–25% of the patients may be identified with a genetic test for mutations in the RPS19 gene.
Prenatal testing and carrier testing is possible if the mutation is known.
The following features are considered diagnostic of Diamond Blackfan Anemia
Anemia before 1 year of age
Macrocytic anemia – red blood cells are larger than normal
Low reticulocyte count
Normal bone marrow with decreased erythroid precursors [Cells that would turn in red blood cells]
Genetic testing may show gene defects or changes.
Differential Diagnosis
Parvovirus infection.
Transient erythroblastopenia of childhood.
Treatment of Diamond Blackfan Syndrome
Treatment may include medications, blood transfusions, and bone marrow transplant. With treatment, many children survive into adulthood.
Steroids
Steroids such as prednisolone are effective and improve red blood cell counts in about 80% of patients.
This may be needed every 4 to 6 weeks in severe cases. Cyclosporin A in combination with prednisolone improves success rates and can be steroid-sparing. If a person doesn't respond to steroid medication then blood transfusions are required. The survival of transfused erythrocytes is normal.
Stem cell transplant
Stem cell transplant may cure Diamond Blackfan anemia. Rejection or infection can occur. Therefore stem cell transplant should be used only if steroids and transfusions do not help.
About 20% of people with the disease go into remission after treatment. [Remission means that the signs and symptoms of anemia have disappeared for more than 6 months without any treatment.]
The affected child needs to be monitored closely.
Complications of Diamond Blackfan Anemia
Slow or delayed growth
Increased risk of malignancies, including solid tumors and leukemias like myelodysplastic syndrome, acute myeloid leukemia, and osteosarcoma.
Osteoporosis, weight gain, high blood pressure, and diabetes are complications of long-term steroid use.
Iron overload, which can affect the heart and liver, is a complication of transfusions.
Eye problems like cataracts, glaucoma, strabismus
Renal abnormalities
Structural defects of the heart
Hypospadias in males
Prognosis of Diamond Blackfan Anemia

Anemia is often progressive and severe.
Spontaneous remission can occur but is rare.