Breast cancer screening means examining or testing women to identify cancers before any symptoms appear. The aim of screening is to detect cancer at an early stage when it can be treated or may be cured.
Read more about Breast Cancer: Risk Factors, Classification, Diagnosis and Treatment
Read more about Staging of Breast Cancer
Read more about Male Breast Cancer
Breast cancer is the most common cancer among women. It is also one of the leading causes of cancer deaths in women. Approximately 15% of all cancer deaths among women are due to breast cancer.
Breast cancer is more commonly seen in women of developed regions. However, in recent times, cancer rates have been increasing in all parts of the world including the less developed countries.
The key to improving the outcome and survival rates in breast cancer patients lies in early detection. Early detection of cancer (when the cancer is still localized to the breast and has not spread to nearby or distant organs) results in a significantly higher cure and survival rate. Once breast cancer has metastasized (spread to distant organs), the chances of cure are markedly reduced.
Read more about Metastasis or Metastatic Disease
Two early detection strategies for breast cancer include:
Early diagnosis of breast cancer: this can be achieved by making the women aware of signs and symptoms of breast cancer so that they can seek immediate medical help in case of detection of any breast lump or other significant changes in the breast.
Read more about Breast Lump: Causes, Diagnosis, and Treatment
Screening of breast cancer: This means detecting cancer when there are no obvious symptoms of the disease. The various methods which can be used for breast cancer screening in women include mammography, clinical breast exam, breast self-exam, etc. These will be discussed in detail below.
Risk Factors of Breast Cancer
Increasing age
Family history of breast cancer
An inherited mutation in BRCA1 and BRCA2 genes
Being overweight
Alcohol consumption
Early menarche and late menopause
Older age at birth of first child or never having given birth
Use of oral contraceptives
Postmenopausal hormone therapy
Smoking
Exposure to cancer-causing chemicals
Recommendations for Breast Cancer Screening
Although different regulatory bodies give different guidelines, they all agree that screening mammography carried out regularly helps to save lives.
The U.S. Department of Health and Human Services recommends that women between the ages of 40 and 74 should get annual screening mammograms.
American College of Radiology (ACR) and the Radiological Society of North America (RSNA) recommends that women who are at average risk for breast cancer should get screening mammography every year beginning at age 40.
According to the American Cancer Society (ACS), women aged 40-44 years should talk to their doctor and consider screening. Screening mammography should begin at age 45 and continued annually until age 55 after which it can be done every 2 years.
The United States Preventive Services Task Force (USPSTF) recommends that for average-risk women, regular screening mammography should begin at age 50 and be done every two years.
The National Cancer Institute (NCI) advises women who have had breast cancer and those who have a family history of breast cancer to seek expert medical advice about the frequency of screening and whether screening should be started before 40 years of age. Also, screening should continue as long as a woman is in good health, regardless of age.
Women should consult their doctor who can guide them about when to begin and how frequently to undergo breast cancer screening. The doctor can also guide the woman about the best screening method suitable for each individual.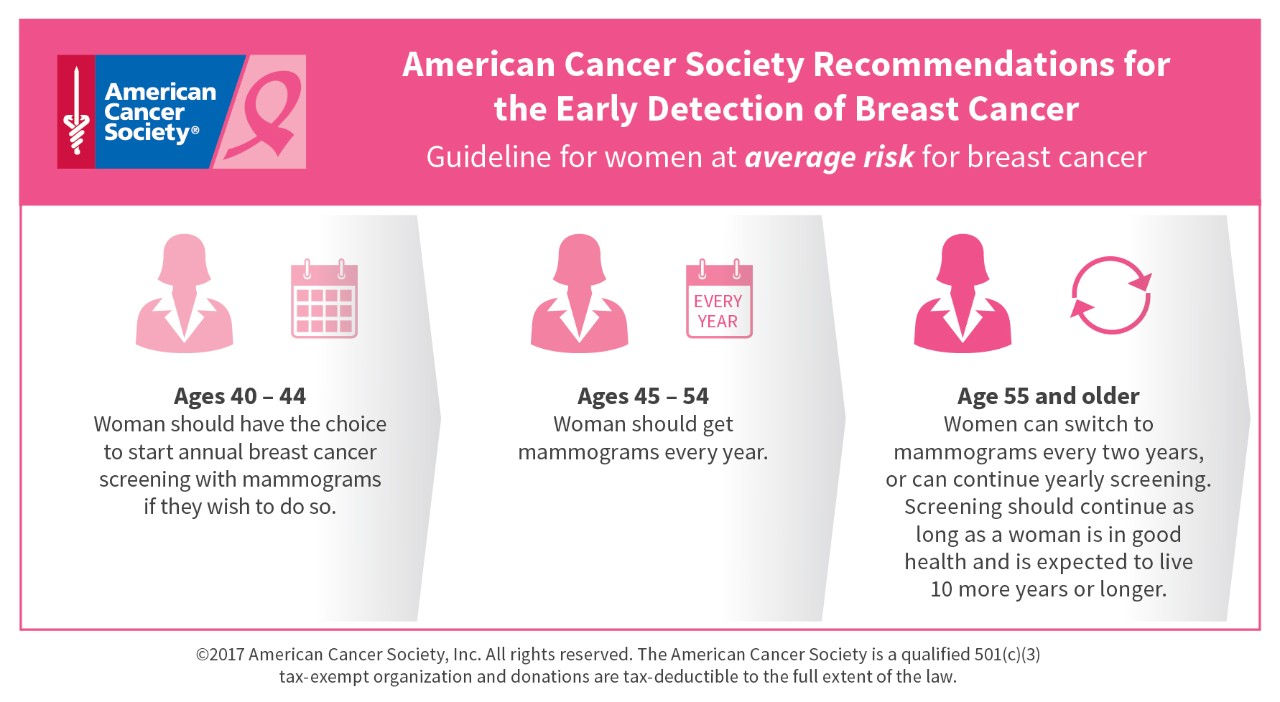 Mammography
It is the most effective test for screening of breast cancer in healthy women and can reduce breast cancer mortality by about 20%. It can detect changes in the breast much before a patient or physician can feel them.
Mammography uses low dose x-rays to examine the breasts. The breast is compressed between two plates so as to spread the breast tissue. The breasts are exposed to a small amount of ionizing radiation and pictures of the inside of the breasts are obtained.
Mammography enables the detection of early cancers that are confined to the breast milk ducts (Ductal carcinoma in situ or DCIS). When removed at this stage, the outcome is excellent. Mammography is the only method that can reliably detect these in situ early cancers. It is also useful for detecting all types of breast cancer, including invasive ductal and invasive lobular cancer.
A newer type of mammogram called tomosynthesis or 3D mammogram has been approved by the FDA. In comparison with traditional or 2D mammograms, which take images only from the front and side, a 3D mammogram takes multiple images from different angles to view a 3-dimensional image of the breast.
3D mammography gives a better view of the breast tissue, thereby making it easier to detect early breast cancer. It also reduces the number of false-positive cases. 3D mammograms are also better for women who have dense breast tissue. However, it is more expensive than 2D mammograms.
Breast MRI (Magnetic Resonance Imaging)
Along with mammograms, MRI is used to screen women who are at high risk of getting breast cancer. Since MRI may show abnormality even in the absence of cancer (high false positive), it is generally not a preferred breast cancer screening method for women with average risk.
MRI can be used to diagnose breast lumps in select high-risk patients, in cases of dense breast tissue or when findings of mammogram and ultrasound are not conclusive.
MRI uses a powerful magnetic field, radiofrequency pulses and a computer to produce images of the inside of the breasts. A contrast material is injected through a vein into the body before obtaining the images.
Read more about MRI in Breast Cancer- Indications and Procedure
Breast Ultrasound
Ultrasound can capture images of areas of the breast that are difficult to see with mammography. It can also distinguish between fluid-filled (cystic) and solid breast lumps. During pregnancy and lactation, ultrasound is considered superior to mammography because the hormone-induced changes in breast tissue cause an increase in the density of breast tissue making interpretation of mammograms difficult.
Ultrasound uses high-frequency sound waves to obtain pictures of the inside of the breasts. It is non-invasive and free of harmful radiation. After applying the gel, a transducer is pressed against the skin over the breast to view the inside of the breast.
Clinical Breast Exam
A clinical breast exam is an examination done by medical health personnel (a doctor or a nurse).
In this, the breast and the underarm area are palpated with hands to feel for the presence of lumps, thickening or any other abnormality in the breast.
Breast Self Exam
Performing breast self-exam regularly helps a woman to become familiar with her breasts. It enables a woman to recognize any new change in the breast including lump, pain or change in size or shape of the breast or nipple. Any change discovered should be brought to the notice of the health care professional.
Genetic Testing for BRCA1 and BRCA2 Mutations
People who have a family history of breast or ovarian cancer can be screened for the presence of genetic mutations. The most common of these include the mutations in BRCA1 and BRCA2 genes. These genetic tests are performed using either a blood or saliva sample. If a person tests positive for these tests, it indicates that the person is at high risk for developing breast or certain other cancers. Such persons should be screened more frequently.
Read more about BRCA Gene Mutation and Testing
Breast Biopsy
When mammograms, other tests, or a physical exam show a change in the breast that looks suspicious for cancer, the only way to confirm it is through a breast biopsy. A biopsy involves the removal of breast tissue which is then examined under a microscope by a pathologist to look for features of cancer.
Read more about Types of Biopsies
Sometimes breast tissue can be removed using a fine needle. This procedure which is done as an outpatient procedure and does not require any kind of anesthesia is called FNAC or fine needle aspiration cytology. FNAC can also be carried out under ultrasound guidance which helps to direct the needle accurately towards the suspicious area in the breast.
Read more about FNAC
Advantages of Breast Cancer Screening
Regular screening helps to :
Reduce the number of people who develop breast cancer
Since screening can recognize early breast lesions, even when the cancer cells are localized to the breast ducts and have not invaded further, many patients do not develop invasive cancer when adequately treated.
Reduce the number of deaths from breast cancer
Early recognition and treatment results in cancer being diagnosed at an early stage which results in a complete cure, better outcome, and better survival rates. Screening is known to markedly reduce the number of deaths from breast cancer.
Identify people who are at a greater risk of developing breast cancer
People at higher risk are those who have a personal or family history of breast cancer. Such people usually have harmful genetic mutations, identification of which helps to decide which patients should undergo more frequent screening and by which testing method.
Disadvantages of Breast Cancer Screening
False-positive test results
Breast cancer screening tests might detect something which looks like cancer but is actually not. This can lead to further tests which can be expensive and time-consuming besides causing undue anxiety to the patient.
False-negative test results
Like any test, mammograms or other breast cancer screening methods are not 100% accurate and may miss some cancers. Such false-negative results may give false assurance to the woman and result in delayed diagnosis and treatment.
Overtreatment
Screening tests can lead to overdiagnosis. It is a condition when a lesion is detected that would not have caused symptoms or problems or would have regressed on its own. Treatment of such lesions results in overtreatment. Overtreatment can result in avoidable and unwanted side effects of treatment.
Radiation exposure
Mammogram involves radiation exposure. Although the amount of radiation exposure during a mammogram is small, multiple mammograms carry a significant radiation exposure.