Ascites is the fluid collection within the abdominal cavity. The word comes from Greek word askos which means bag.
Ascites is a pathological condition which means bag. There is no intraperitoneal fluid in normal healthy males whereas women may normally have as much as 20 mL, depending on the phase of their menstrual cycle.
The most common cause of ascites is cirrhosis of the liver. Treatment of ascites depends on its underlying cause.
Causes of Ascites.
Ascites can be divided into portal hypertensive (SAAG >1.1 g/dL, transudative) and non–portal hypertensive exudative (SAAG < 1.1 g/dL) causes. This classification is much better than older classification into transudate and exudates.
Serum-ascites albumin gradient [SAAG] >1.1 g/dL
This is usually caused by conditions leading to portal hypertension. These are
Hepatic congestion
Congestive heart failure
Constrictive

pericarditis

Tricuspid insufficiency
Budd-Chiari syndrome
Liver disease
Cirrhosis
Alcoholic hepatitis
Fulminant hepatic failure
Massive hepatic metastases
SAAG < 1.1 g/dL
Hypoalbuminemia

Nephrotic syndrome
Protein-losing enteropathy
Severe malnutrition with anasarca

Chylous ascites
Pancreatic ascites
Bile ascites
Nephrogenic ascites
Urine ascites
Ovarian disease
Peritoneal Disease

Infections – Bacterial, tuberculous, fungal, human immunodeficiency virus associated peritonitis
Malignancy

Peritoneal carcinomatosis
Primary mesothelioma
Pseudomyxoma peritonei
Hepatocellular carcinoma

Other rare conditions

Familial Mediterranean fever

Vasculitis

Granulomatous peritonitis
Eosinophilic peritonitis
Risk Factors for Ascites
Most of the risk factors for ascites are risk factors for liver disease which are
Prolonged heavy alcohol use
Chronic viral hepatitis or jaundice
Intravenous drug use
Multiple sexual partners
Homosexual activity with a male partner
Heterosexual activity with a bisexual male
Untested blood transfusion
Tattoos
Living or birth in an area endemic for hepatitis
Risk factors for non alcoholic fatty liver disease

Obesity
Hypercholesterolemia
Type 2 diabetes mellitus

Gastrointestinal cancer
Nephrotic syndrome may have nephrotic ascites.
Pathophysiology of Ascites
Ascites represents a state of total-body sodium and water excess, but the initiating event is not clear. Three theories have been floated in this regard
Underfilling Theory
Due to portal hypertension, there is inappropriate sequestration of fluid within the splanchnic vessels due to portal hypertension. This leads to decrease in effective circulating blood volume which . This activates the plasma renin, aldosterone, and sympathetic nervous system, resulting in renal sodium and water retention.
Overflow Theory
There is inappropriate renal retention of sodium and water in the absence of volume depletion as the patients with cirrhosis were found to have intravascular hypervolemia rather than hypovolemia.
Peripheral Vasodilatation
This is most recent theory. It says that the portal hypertension leads to vasodilation leading to reduced effective arterial blood volume. With progression of disease, there occurs excitation by neural and humoral factors, sodium retention occurs and plasma volume expands.
This theory includes concepts of both the previous theories, proposing that underfilling is operative early and overflow is operative
Portal hypertension apparently leads to an increase in nitric oxide levels which causes splanchnic and peripheral vasodilation.
Regardless of the initiating process, number of factors contribute to the accumulation of fluid in the abdominal cavity. These are
Increased levels of epinephrine and norepinephrine
Hypoalbuminemia leading to reduced plasma oncotic pressure causing extravasation of fluid from the plasma to the peritoneal fluid.
Accumulation of fluid within the abdomen leads to additional fluid retention by the kidneys due to stimulatory effect on blood pressure hormones, notably aldosterone. The sympathetic nervous system is also activated, and renin production is increased due to decreased perfusion of the kidney.
Presentation of Ascites
Initially the accumulation of fluid may be totally without symptoms. Increase in the abdominal girth is the main complaint.
All the patients with ascites should be enquired for presence of above listed risk factors
The patient should be examined for signs of portal hypertension and chronic liver disease which are
Jaundice

Palmar erythema

Spider angiomas
Liver enlargement
Elevated jugular venous pressure
A firm nodule in the umbilicus [Sister Mary Joseph nodule] is suggestive of peritoneal carcinomatosis originating from gastric, pancreatic, or hepatic primary malignancy.
A pathologic left-sided supraclavicular node (Virchow node) suggests the presence of upper abdominal malignancy.
Patients with cardiac disease or nephrotic syndrome may have anasarca. Mild ascites is hard to notice, but severe ascites leads to abdominal distension. Patients with ascites generally will complain of progressive abdominal heaviness and pressure as well as shortness of breath due to mechanical impingement on the diaphragm.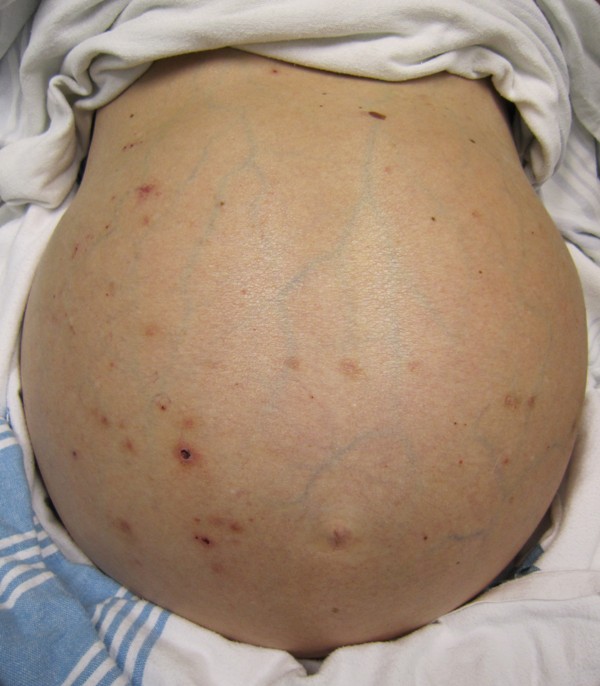 Other Signs of Ascites
Flank Bulging – visible bulging of the flanks in the reclining patient
Shifting dullness – Difference in percussion note in the flanks that shifts when the patient is turned on the side
Fluid thrill or Fluid Wave – Tapping or pushing on one side will generate a wave-like effect through the fluid that can be felt in the opposite side of the abdomen).
Staging of Ascites
See the list below:
Stage 1+ is detectable only after careful examination
Stage 2+ is easily detectable but of relatively small volume.
Stage 3+ is obvious, but not tense, ascites.
Stage 4+ is tense ascites.
Lab Studies
Routine complete blood count , basic metabolic profile, liver enzymes, and coagulation should be performed.
Aspiration of the ascetic fluid should be done and subjected to gross appearance, protein level, albumin, and cell counts. If indicated, microbiological culture, Gram stain and cytopathology should be performed

Usually ascitic fluid is transparent and tinged yellow.
Pink fluid may indicate presence of blood cells.
Bloody traumatic tap will clot whereas nontraumatic bloody fluid is does not clot.
Turbid or cloudy fluid suggests infection.
Leucocytosis . [Normal fluid < 500 leukocytes/µL] suggests bacterial peritonitis.
Lymphocytosis is found in tuberculosis and peritoneal carcinomatosis.

SAAG [Serum ascites albumin gradient]
It is considered as the best single test for classifying ascites with 97% accuracy. It is calculated by subtracting the ascitic fluid albumin value from the serum albumin value. As noted above, SAAG is used to classify ascites instead of old transudate and exudates terms.
Total protein
It provides additional clues when used with the SAAG

Elevated SAAG and a high protein levels – ascites due to hepatic congestion.
Low SAAG and a high protein level- malignant ascites

Culture, Gram staining are indicated to rule out infection
Cytology – About 75% sensitivity for malignant ascites.
Imaging Studies
Chest Xray
Elevation of the diaphragm,
Pleural effusions may be present
Abdominal Xrays
Findings are usually seen when fluid > 500ml
Nonspecific signs
Diffuse abdominal haziness
Bulging of the flanks
Indistinct psoas margins
Poor definition of the intra-abdominal organs
Erect position density increase
Separation of small bowel loops
Centralization of floating gas containing small bowel.
Direct signs [More reliable and specific]
Hellmer Sign
In 80% of patients with ascites. The lateral liver edge is medially displaced from the thoracoabdominal wall
Dog's Ear or Mickey Mouse appearance
Fluid accumulation occurs in the rectovesical pouch and then spills into the paravesical fossa producing symmetric densities on both sides of the bladder, termed as dog's ear or Mickey Mouse appearance.
Medial displacement of the cecum
Medial displacement of the cecum and ascending colon and lateral displacement of the properitoneal fat line are present in more than 90% of patients with significant ascites.
Ultrasonography
Ultrasound can detect volumes as small as 5-10 mL. It is able to differentiate between different kinds of fluid and between benign and malignant ascites.
Computed tomography scanning
Ascites is demonstrated well on CT scan images. Small amounts of ascitic fluid localize in the right perihepatic space, the posterior subhepatic space, and the Douglas pouch (rectouterine pouch). See the image below.
Hepatic, adrenal, splenic, or lymph node lesions associated with masses arising from the gut, ovary, or pancreas are suggestive of malignant ascites.
Diagnostic Laparoscopy
For unexplained cases, especially if malignant ascites is suspected.
Treatment
Ascites is a manifestation of an underlying disease. Ascites is treated while an underlying etiology is sought, in order to prevent complications, relieve symptoms, and prevent further progression.
Treatments in high SAAG (transudate) are:
Salt Restriction
Decreased salt intake leads to lower sodium concentration and increased loss of fluid in urine as retention decreases. Salt restriction can be combined with warter restriction if serum sodium levels< 130 mmols/litre. About 15% patients respond to salt restriction.
Some drugs have shown promise in research.
Aquaretics—Promote excretion of electrolyte-free water. Could be beneficial in patients with ascites and hyponatremia.
Terlipressin – This drug is used in place of albumin for prevention of circulatory dysfunction after large-volume paracentesis. Also avoids exposure to blood products.
Diuretics
Diuretics increase the process of diuresis and urinary loss of sodium.
Spironolactone, triamterene or amiloride are the usual drugs to begin with.
Combinations with other types of diuretics may be added.
Serum potassium level and renal function should be monitored closely when patient is on diuretics.
Diuresis can be monitored by weighing the patient daily. The goal is weight loss of no more than 1.0 kg/day for patients with both ascites and peripheral edema and no more than 0.5 kg/day for patients with ascites alone
If a patient exhibits a resistance to or poor response to diuretic therapy, ultrafiltration or aquapheresis may be needed to achieve adequate control of fluid retention and congestion.
Paracentesis
In those with severe (tense) ascites, therapeutic paracentesis may be needed in addition to medical treatments listed above. As this may deplete serum albumin levels in the blood, albumin is generally administered intravenously in proportion to the amount of ascites removed.
Ascites with Low SAAG
Exudative ascites generally does not respond to manipulation of the salt balance or diuretic therapy. Repeated paracentesis and treatment of the underlying cause is the mainstay of treatment.
Surgery in Ascites
Ascites that is refractory to medical therapy is considered an indication for liver transplantation.
Shunts
Portacaval shunt
Peritoneovenous shunt
Transjugular intrahepatic portosystemic shunt (TIPS).
None of these shunts has been shown to extend life expectancy, and are used to buy time till liver transplantation.
Liver transplant
Liver transplantation for advanced cirrhosis may be considered a treatment for ascites due to liver failure. Liver transplant involves a very complicated and prolonged process and it requires very close monitoring and management by transplant specialists.
Complications
Spontaneous bacterial peritonitis
Hepatorenal syndrome
Thrombosis
Electrolyte imbalances
Get more Health & Medicine Articles like this
Subscribe & Get Updates sent to your email inbox.
Thank you for subscribing.
Something went wrong.