An ANA (antinuclear antibody) test detects the presence of antinuclear antibodies in the blood. Their presence usually indicates that a person has an autoimmune disorder.
What are Antinuclear Antibodies?
Antibodies are the proteins made by the immune system of the body to fight against bacteria, viruses, or other microbes. These antibodies act against the antigens released by the microbes to protect the body from their harmful effects.
In autoimmune diseases, the immune system of the body mistakenly identifies certain parts of one's own body as foreign invaders. In response, it releases special antibodies, called autoantibodies that attack a person's own cells and tissues. These autoantibodies can attack and damage the connective tissue and a variety of other organs (skin, joints, muscles, etc).
Following are the major symptoms of autoimmune diseases:
Joint pain and swelling
Tiredness
Weakness
Fever which keeps on recurring or persists
Muscle pain
Red, butterfly-shaped rash (a symptom of lupus)
Light sensitivity
Numbness and tingling of hands or feet
Hair loss
Antinuclear antibodies (ANAs) are a type of autoantibody that binds to autoantigens present in a person's own cells. It is called antinuclear because it binds or attacks the nucleus of the cells. People suffering from some autoimmune diseases produce this autoantibody and will test positive for antinuclear antibodies.
The majority of these antibodies are IgG type, but in some cases, IgM and IgA type of antibodies are also produced.
Uses of Antinuclear Antibodies Test
An ANA test is used to diagnose autoimmune diseases. These include:
Systemic lupus erythematosus (SLE): It is a chronic disease affecting multiple parts of the body, like the joints, blood vessels, kidneys, and brain.
Rheumatoid arthritis: It is a condition that causes pain and swelling of multiple joints, including those of the hands and feet.
Scleroderma: It is a disease that affects mainly the skin along with joints, and blood vessels. The most common symptom is the hardening and tightening of the skin.
Sjogren's syndrome: It is a rare disease affecting the moisture-producing glands of the body. It is characterized by dry eyes and a dry mouth.
Polymyositis: It is one of the inflammatory myopathies. It involves inflammation of the muscles or related tissues, such as the blood vessels that supply the muscles.
Dermatomyositis: It is a rare inflammatory disease that manifests as a distinctive skin rash, muscle weakness, and inflammatory myopathy.
Mixed connective tissue disease (MCTD): It is a rare disorder characterized by features commonly seen in three different autoimmune disorders: SLE, scleroderma, and polymyositis. Some of the patients may also have symptoms of rheumatoid arthritis.
CREST syndrome: It is a multisystem connective tissue disorder. It is also known as the limited cutaneous form of systemic sclerosis. The acronym CREST refers to the five main features: calcinosis, Raynaud's phenomenon, esophageal dysmotility, sclerodactyly, and telangiectasia.
Antinuclear antibodies are also found in many other diseases. These include
Drug-induced lupus
Autoimmune hepatitis
Primary biliary cirrhosis
Multiple sclerosis
Discoid lupus
Thyroid disease
Antiphospholipid syndrome
Juvenile idiopathic arthritis
Psoriatic arthritis
Idiopathic thrombocytopenic purpura
Inflammatory bowel disease
Idiopathic pulmonary fibrosis, etc.
What Sample is Required for ANA test?
A venous blood sample taken usually from the arm is required for the test to be performed.
Read more about Venous blood sampling
Types of Antinuclear Antibodies
Antinuclearantibodies can be subdivided according to their specificity for different parts of the nucleus. Each subset has different propensities for specific disorders. These include:
Antibodies against extractable nuclear antigens

Anti-Ro/SS-A and anti-La/SS-B
Anti-Sm
Anti-nRNP/anti-U1-RNP
Anti-Scl-70/anti-topoisomerase I
Anti-Jo-1

Anti-dsDNA
Anti-histone antibodies
Anti-gp210 and anti-p62
Anti-centromere antibodies
Anti-sp100
Anti-PM-Scl
Anti-DFS70 antibodies
How are Antinuclear Antibodies Tested?
Although there are many tests for the detection of ANAs the most commonly used methods are Indirect immunofluorescence and ELISA. Once ANAs are detected in a blood sample, their various subtypes are determined.
Indirect immunofluorescence (Fluorescent Antinuclear Antibody Test or FANA).
HEp-2 cells are used as a substrate to detect the antibodies. Microscope slides are coated with HEp-2 cells and the patient's serum is incubated with the cells. If ANA antibodies are present, they will bind to the nucleus of the cells. This can be visualized by adding a fluorescent-tagged anti-human antibody that binds to the antibodies. When light of specific wavelength shines on the antibody, it will fluoresce which can be seen under the microscope. Depending on the antibody present in the patient's serum and the location of the antigen in the cell, distinct patterns of fluorescence will be seen under the microscope.
FANA test results are reported both in titers and the patterns that the autoantibodies make.
The titer reading is determined by performing dilutions on blood serum. An ANA test is considered positive if fluorescence is seen at a titer of 1:160 or higher.
Depending on the staining of the cell nucleus, different patterns of ANA staining are observed under the microscope. These patterns include homogeneous or diffuse pattern; speckled pattern; nucleolar pattern; centromere pattern; and peripheral or rim pattern. Although these patterns are not specific for any particular disease, certain diseases are more commonly associated with a specific pattern. Hence these patterns can guide the treating physician to evaluate a particular disease.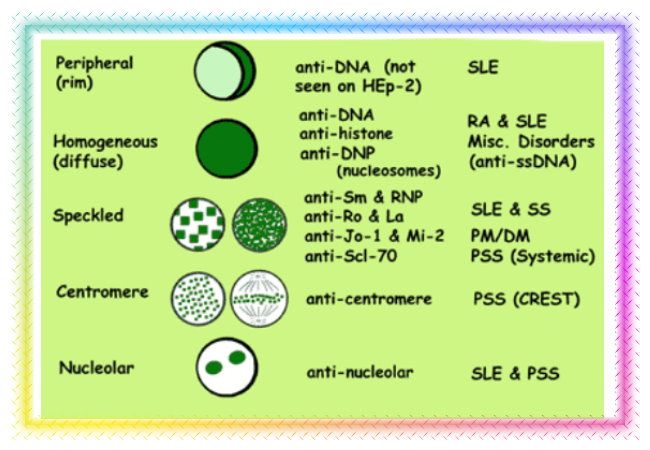 Table showing the pattern of ANA staining in various diseases:
| | | | | |
| --- | --- | --- | --- | --- |
| Diseases | Homogenous pattern | Peripheral Pattern | Speckled pattern | Nucleolar pattern |
| SLE | + positive | + positive | + positive | + positive |
| Mixed connective disease | + positive | | + positive | |
| Scleroderma | | | + positive | + positive |
| Rheumatoid arthritis | | | + positive | |
| Sjogren's syndrome | | | + positive | |
| Polymyositis | | | + positive | + positive |
Enzyme-linked immunosorbent assay (ELISA)
It uses antigen-coated microtitre plates for the detection of ANAs. It involves the interaction of ANAs present in the patient's serum with a preprepared antigen. This results in the formation of an antigen-antibody complex. Another antibody is added that adheres to this complex and induces a color change. The result is an optical density value that is read as positive, negative, or equivocal.
If the ELISA method results in an equivocal or non-conclusive finding, then indirect immunofluorescence method is used.
Interpretation of Antinuclear Antibodies Test
A negative result means that no ANAs are found in blood. It indicates that certain autoimmune diseases are unlikely to be present. However, if a patient's symptoms are strongly suggestive of a particular autoimmune disease; other tests may be needed to confirm the diagnosis.
If antinuclear antibodies are detected in blood, the test is considered positive.
A value ≥ of 1:160 is considered positive.
In some laboratories, the result is reported in international units.
1 IU is equivalent to 1:160.
A value ≤ 1.0 U: negative
A value between 1.1-2.9 U: weakly positive
A value between 3.0-5.9 U: positive
Value ≥ 6.0 U: strongly positive
Various autoimmune diseases are associated with a different frequency of ANA positivity and different antibody pattern.
The frequency of positivity on ANA test is as follows:
Mixed connective tissue disease: 100%
Systemic lupus erythematosus: 95%-100%
Sjögren syndrome: 80%
Scleroderma: 60%-95%
Polymyositis-dermatomyositis: 49%-74%
Rheumatoid arthritis: 40%-60%
Normal: About 5%
Each antibody pattern is reported along with its titer which gives an indication of the likely diagnosis.
Low titers of ANA ( 1: 40 or 1: 80) may be found in 20% of healthy individuals, especially the elderly; but are not considered significant.
ANA titers of 1:160 or higher are found in about 5% of the healthy population.
A positive result does not, by itself, indicate the presence of an autoimmune disease. Even when present at high titer, a positive ANA result, alone (in the absence of signs and symptoms of a disease), does not indicate that a patient has an autoimmune disease.
The test still remains an important initial test to evaluate autoimmune disorders especially lupus. Since more than 95% of patients with lupus will show a positive test result, a negative result can help to exclude the diagnosis.
As many people with a positive test may have a disorder other than lupus, so a positive ANA test does not automatically mean a diagnosis of lupus or any autoimmune disease. Clinical features must be taken into account before making a definite diagnosis.
False-positive antinuclear antibodies test result can occur in the following conditions:
Elderly people; especially women
Infections such as infectious mononucleosis or tuberculosis
Drugs for hypertension or seizures (hydralazine, phenytoin, procainamide, etc)
Cancer
False-negative antinuclear antibodies test can occur in patients with SLE who are receiving steroids. Some patients with SLE may have a negative ANA test.