Analgesics are the drugs that cause relief from pain. Analgesics are also called pain killer drugs.
The boundaries between normal discomfort and pathologic pain are often obscure. The intensity of pain suffered differs with the personality, intelligence and culture of an individual.
People belonging to different sections of society have different tolerance for pain. For example, an urban dweller would be generally having lower threshold for pain than people who live in villages or country side.
Analgesics are widely used in clinical practice and often given for symptomatic relief too, before a diagnosis could be reached at.
Or in patients in whom, for some reason, the cause cannot be treated, immediate relief of pain should be obtained.
In this scenario, analgesics act on pain mechanism rather than addressing causation. For example, non-steroidal anti-inflammatory drugs for ankle twist without major injury, use of nitrates in angina pectoris and muscle relaxants in certain musculoskeletal disorders.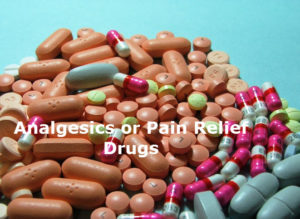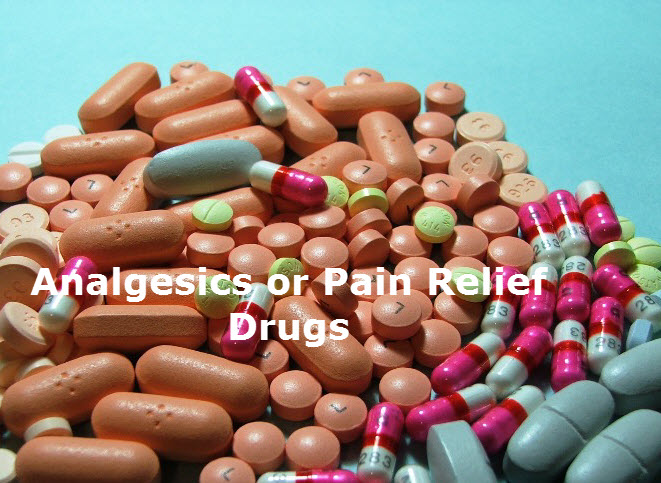 Types of Analgesics
Prostaglandin synthesis inhibitors [paracetamol and other NSAIDs]
Opioid Drugs
Anticonvulsant Drugs
Antidepressants
Antiarrythmicx
Alpha 2 agonist
Local anesthetics
Steroids
Misc
Prostaglandin Synthesis Inhibitors
When cells are damaged, arachidonic acid gets liberated from cell wall. Arachidonic acid forms prostaglandins, prostacyclin and thromboxanes with the help of cyclic endoperoxides. Prostaglandins cause inflammation, which is associated with the symptoms of redness, swelling, pain and fever.
Cyclooxygenase enzyme is involved in cycling and oxygenation of arachidonic acid. The NSAIDs drugs act by inhibiting cyclooxygenase enzyme (COX). Except for paracetamol, all have anti-inflammatory action.
There are two varieties of cyclooxygenase enzymes (COX). COX-1 is constitutively expressed. COX-2 is induced in the inflammatory state. Recently; COX-2 selective inhibitory drugs have been introduced and claimed to have better gastrointenstinal profile but are associated with cardiovascular side-effects.
NSAIDs are commonly used as pain relievers in various types of pains. They are used in both acute or chronic pains and pains due to malignancy.
NSAIDs have many side effects and should be used with caution. Their side effects are particularly on digestive system and kidneys.
Some of the common NSAIDs are ibuprofen, diclofenac, piroxicam, naproxen. Here is a partial list of the side effects of NSAIDs
Gastrointestinal- nausea, dyspepsia, vomiting, peptic ulcer
Renal-interstitial nephritis, sodium retention. Can aggravate nephropathy in background of hypertension and diabetes
Allergy
Platelet inhibition leading to aggravation of bleeding diathesis
Tinnitus and deafness.
Adverse effects on diabetes and cardiovascular profile
Opioid Drugs
Opiates are the drugs acting on the opiate receptors as discussed earlier present in the body. These drugs were previously called narcotics.
Due to habituation opioid analgesics are not used frequently. Different opiates act on different receptors to produce the effect.
Generally speaking, these drugs have lesser bioavailabilty when taken orally and most of the drugs are parenterally administered
Some of them are available as transdermal patches too. These drugs are not commonly used in routine chronic benign pain syndromes. In refractory cases they might be tried, but the fear of the addiction is always there
Opioid analgesics are of great help in cancer patients.
Opioids and NSAIDs have additive effects because both of them act through different mechanisms. The overall analgesic effect will be superior. Increasing the dosage because of increased severity of pain can lead to accumulation of COX inhibitors.
Side Effects of opioid drugs are slowing of bowel movements, respiratory depression, cough suppression and biliary colic
Common opioid drugs used clinically are morphine, pethidine, fentanyl, buprenorphine, pentazocine, tramadol, codeine and dextropropoxyphene
Anticonvulsants
These drugs are most often used for neuropathic pain. The common anticonvulsants are phenytoin, carbamazepine, sodium valproate, gabapentin, pregabalin etc.
The mechanism of analgesic effects of anticonvulsants are not really known. It is speculated that they suppress or limit the spread of aberrant neuronal discharges. They have been found to provide good relief in neuropathic pain syndromes like postherpetic neuralegia, trigeminal neuralgia, diabetic neuropathy.
The analgesic effect comes at much lower dose when compared to antiepilepsy. The drugs should be used for at least 10-14 days to know the efficacy and if necessary increasing the dosage.
Antidepressants
The antidepressants used for management of depression, also were found to have analgesic effect. This effect gets potentiated when combined with opioids. The analgesic effect has been attributed to inhibition of serotonin and noradrenaline uptake.
These drugs and useful in a variety of chronic pain syndromes like diabetic neuropathy, tension headache, migraine, postherpetic neuralgia, rheumatoid arthritis, chronic low back pain, cancer etc. they are classified as primary, secondary and tertiary amines. Commonly used drugs are secondary and tertiary amines. Depression worsens pain perception. By treating depression, patient can tolerate pain better. These drugs also improve sleep and appetite.
Desipramine, nortriptyline, amitryptiline, imipramine, doxepim and venlafaxine are commonly used antidepressant drugs for analgesic purpose.
Antiarrhythmics
Antiarrythmic drugs are low dose lignocaine and mexiletine are useful for neuropathic pain. They have to be used carefully in patients with a history of heart disease or abnormal electrocardiogram. In fact, they should be considered only when anticonvulsants and antidepressants have failed. These drugs appear to block the spontaneous activity of primary afferent nociceptors that appear when they are damaged. They achieve it by blocking sodium channels.
Alpha2 adrenergic agonists
Clonidine is the alpha2-adrenergic agonist, clonidine works by stimulating inhibitory bulbospinal pain pathway that are norepinephine dependent. It might help patients with sympathetic dependent pain by its role in periphery. It provides pain relief in diabetic neuropathy and postherpetic neuralgia.
The drug is better tolerated by younger people.
Local anaesthetics
Local anaesthetics are drugs that produce reversible blockade of conduction of nerve impulses. With progressive increase in concentrations of local anaesthetics, the transmission of autonomic, sensory and motor impulses are interrupted. This produces autonomic nervous system blockade, analgesia and skeletal muscle paralysis in the area innervated by the affected nerve. Subsequent recovery of nerve conduction occurs spontaneously and is complete with no evidence of structural damage to nerve fibres as a result of exposure to the local anaesthetic.
Most commonly used are lignocaine and bupivacaine.
Ligocaine is used for different anaesthesia purposes in different concentrations.
Topical anaesthesia-2% viscous, 4% solution, 10% spray
Local infiltration-0.5%, 1%, 1.5%, 2% with or without adrenaline
Peripheral nerve block-0.5%, 1%, 1.5%, 2% with or withoutadrenaline
Intravenous block-0.5%
Epidural anaesthesia-0.5%-2%
Subarachnoid anaesthesia-5%
Unlike lignicaine, bupivacaine has less number of uses. Its main attraction has been long duration of action. It cannot be used as a surface anaesthetic. Because of its cardiotoxicity side effect, it is not used for intravenous block. This drug has less cumulative effect when compared to lignocaine.
Steroids
The naturally occurring corticosteroids are cortisal, cortisone, corticosterone, aldosterone. The synthetic cortiocosteroids used are predinisolone, prednisone, methylprednisolone, betamethasone, dexamethasone and triamcinolone.
The corticosteroids commonly used in pain management are triamcinolone acetate and methyl prednisolone acetate.
Both methylprednisolone and triamcinolone are used widely for epidural injections too.
Steroids reduce inflammation by inhibiting synthesis and release of proinflammatory substances
Miscellaneous Drugs
There are so many other drugs used for different indications like vasodilators, muscle relaxants, counter irritants, neuron revitalizer, antoxidants etc.
Vasodilators like nifedepine and xanthinol are useful for vasospastic conditions like Raynaud's phenomenon, Buerger's disease, CRPS etc.
Muscle relaxants are useful for relieving the muscle spasm or spacticity especially for situations like acute muscle spasm, fibromyalgia, nocturnal leg cramps and chronic central nervous system spasticity. Tizanidine, baclofen), benzodiazepines (Diazepam), cyclobenzaprine are different kinds of muscle relaxants with different mechanism of action.
Capsacin is a topical anallgesic cream dervied from chilli pappers.