Certain illnesses or injuries can cause changes in breathing. While some changes like change in frequency, depth, and dyspnea are frequently encountered and are quite non-specific, there are certain breathing patterns which indicate towards an underlying set of possible causes.
These abnormal breathing patterns need to be understood and identified.
Normal Breathing Pattern
To define abnormality, one should be aware of the normal breathing pattern.
In normal breathing, there are small inhalations followed by the exhalation. The exhalation is followed by an automatic pause (or period of no breathing) for about 2 seconds.
Most of the work of inhalation (about 90%) is done by the diaphragm, the main breathing muscle. Exhalation is passive and is accompanied by the relaxation of all breathing muscles.
Following are the characteristics of a normal breathing pattern at rest.
Inhalation period is 1.5-2 seconds
Exhalation is 1.5-2 seconds
An automatic pause of almost no breathing for 2 seconds
Tidal volume (the depth of inhalation) is 500-600 ml
Breathing frequency 10-12 breaths/min.
In addition, normal breathing is
Slow, regular, nasal only
Diaphragmatic
Invisible [No effort should be visible]
Inaudible

No panting
No wheezing
No sighing
No deep inhalations or exhalations
Abnormal Breathing Patterns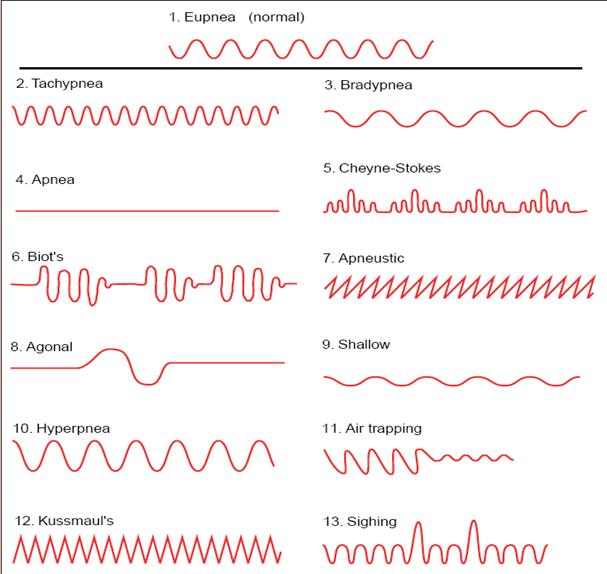 Apnea
The absence of breathing.
Obstructive sleep apnoea is caused by intermittent and repeated upper airway collapse during sleep.
This results in irregular breathing at night, and excessive sleepiness during the day.
Orthopnea
A person is able to breathe comfortably in an upright position (such as sitting in a chair), unable to breath laying down.
Dyspnea
Dyspnea is subjective sensation described as breathing difficulty. It is normal to feel dyspnea after sufficient exertion. It is the dyspnea at rest or minor exertion which needs to be investigated.
Paroxysmal nocturnal dyspnoea is acute dyspnoea causing the patient to awake from sleep and then sit upright or stand out of bed for relief. It is associated with pulmonary edema due to left ventricular failure (eg, due to mitral stenosis, aortic insufficiency or hypertension) but nocturnal attacks of bronchial asthma may be difficult to differentiate.
Hyperpnea
Increased volume with or without an increased frequency, normal blood gases present.
Hyperventilation
Hyperventilation is the increased rate and depth of breathing which results in abnormally low levels of carbon dioxide in the blood and leads to dizziness, light-headedness, weakness, unsteadiness, muscle spasms in the hands and feet, and tingling around the mouth and fingertips.
Causes include:
Anxiety.
Head injury.
Cerebrovascular event (pontine lesions)
Drugs which stimulate central nervous system
It is a kind of overventilation or ventilation in excess of the body's need. It results in decreased PaCO2, and a respiratory alkalosis.
Hypoventilation
A ventilation which is not sufficient to meet the need of the bodyHypoventilation is breathing that is not adequate to meet the needs of the body (too shallow or too slow).
Hypoventilation causes an increase in blood carbon dioxide level and a decrease in oxygen level.
Causes of hypoventilation are
CNS

Drugs that depress central nervous system
Cerebrovascular events
Trauma
Tumors

Obesity.
Obstructive sleep apnoea.
Severe chest wall deformities like kyphoscoliosis
Neuromuscular diseases

Myasthenia gravis
Amyotrophic lateral sclerosis
Guillain-Barre syndrome
Muscular dystrophy.

Severe chronic obstructive pulmonary disease.
Congenital Central Hypoventilation Syndrome
Tachypnea
Increased frequency without blood gas abnormality
Kussmaul's Respiration
This breathing is deep sighing respiration associated with metabolic acidosis.
There is an increased rate and depth of breathing over a prolonged period of time. It occurs in response to metabolic acidosis where the body tries to flush out CO2..
Diabetic ketoacidosis, chronic kidney disease.
Cheyne-Stokes respiration
There is a gradual increase in volume and frequency of respiration and it is followed by a gradual decrease in volume and frequency, followed by apnea periods of 10 – 30 seconds between cycle.
Then the pattern repeats. It is described as a crescendo-decrescendo pattern. There are characteristic cyclic waxing and waning ventilation with apnea gradually giving way to hyperpneic breathing.
Cheyne-Stokes respiration is typically seen in low cardiac output states with compromised cerebral perfusion Cheyne-Stokes respiration is also known as periodic respiration. Its exact pathophysiology remains unclear.
Cheyne-Stokes respiration is often considered a poor prognostic sign but it is also present as a normal finding in children and in healthy adults following fast ascending to great altitudes. Some persons normally have Cheyne Stokes respiration in their sleep.
Causes
Brainstem lesions
Encephalitis.
Raised intracranial pressure.
Heart failure.
Chronic pulmonary edema.
Altitude sickness.
Biot's respiration
Biot's respiration is similar to Cheyne-Stokes respiration but thoracic volume is constant, unlike Cheyne-Stokes respiration except during apneic periods. Short episodes of rapid, deep inspirations followed by 10 – 30 second apneic period occur.
Seen with patients with elevated ICP as seen in meningitis.